Originally posted and created for Cardplayer Lifestyle
Poker Power has become a true force in women's poker; inspiring, informing, and financially backing poker players to achieve success once beyond their wildest dreams. Their motto is to "Be fearless. Bet on yourself." Their driving desire is to create opportunities and the belief in oneself to foster the ability to take risks in an industry that's predominately male.
Jenny Just and Juliette Hulsizer created Poker Power in 2020. Jenny Just is a billionaire who cofounded the financial investment firm PEAK6 Investments with her husband in 1997. Prior to that, she was an options trader in Chicago, IL. Juliette is her daughter and the inspiration behind the company. Poker Power has partnered with multiple companies, including PokerStars, one of the most trusted and highly-regarded companies in the industry. Recently, they jointly held the "PokerStars x Poker Power Bootcamp Showdown" tournament at EPT Prague with Roxanne Johnson from Kelowna, British Columbia, Canada winning a Platinum Pass to this year's PSPC.
Poker Power also sent Erin Lydon, the President of Poker Power and many of their associates and teachers to attend the WPT's Ladies Meet-Up-Game hosted by Jamie Kerstetter in December during the WPT World Championship at the Wynn, which was a resounding success.
Cardplayer Lifestyle recently had the opportunity to ask Jenny, Juliette, and Erin a few questions about their light bulb moments, their hope for the future, and equality of women in poker.

Jenny, you founded Poker Power after making the correlation that the skills required in poker are similar or the same as the ones you need to succeed in typically male-dominated industries, like options trading. What about this correlation or light bulb moment made you want to start Poker Power?
Jenny: The origin of Poker Power started (with) Juliette's dad, Matt, commenting to me that she should learn poker. He said that because at PEAK6 we understand that the skills that make a great trader are similar to those that make great poker players. In fact, playing poker is embedded in the culture of our firm. But here's the funny thing: Matt and I weren't poker players. When he suggested it, I paused and pondered why suggesting that a 14-year-old girl should learn to play sounded so strange… especially because our three older sons all knew how to play poker!
Poker Power began as an idea — let's see if we can interest girls in playing the game, and from there we can first make it fun and then layer in why the skills are so important from the classroom to the boardroom.
Juliette, how meaningful is Poker Power and co-founding this company with your mother? My mother taught me poker when I was 12 or 13, and it's definitely created a bond that gives us a short hand and connection that continues to evolve.
Juliette: Poker Power has been a really meaningful project in my life because knowing that I am helping teach girls critical life skills and building the next generation of female leaders is incredibly rewarding. I'm also super lucky that I get to do this with my mom, who has been an incredible role model for me through this journey and is one of the most powerful women I know — this organization would not exist without her incredible leadership, hard work, and passion for female empowerment.
Jenny, you talk about specific tools that will help women become successful: negotiation, strategic decision-making and capital allocation. Would you mind elaborating on these?
Jenny: Each of those skills and many others, such as risk analysis, can be honed at the poker table. For example, every round in poker is a negotiation where the players need to agree on a "price" to see the next card. Similarly, poker is a game of imperfect information where quick but astute decisions are made again and again. Learning to think like a winning poker player transcends the game room and in fact is a key way to stack skills that really matter including capital allocation and strategy. Each of our 12 core lessons has a leadership theme that brings to life why poker matters from being courageous to practicing discipline to developing resilience.
Jenny, you and Juliette did an amazing job on your TEDx talk and really brought a new perspective to encouraging girls to learn how to play poker. Can you tell us the main message you wanted to share?
Jenny: As a mom and businesswoman, I wanted our listeners to imagine how different the world would be if 1 million, 10 million, or 100 million women played poker. Poker is an incredible tool for life and work!
Let's talk about the poker industry and what currently is a quiet but positive seismic shift for women. Erin, do you feel that with corporate culture as well?
Erin: I agree that there's momentum in the industry. We saw it with the Ladies Tournaments at the World Poker Tour (WPT) in December, and with Jamie Kerstetter's Meet Up Games, and the extraordinary celebration at the Women in Poker Hall of Fame (WIPHOF) luncheon. In fact, while the numbers are only increasing by a single percentage digit for women's participation in major tournaments, the number of players and industry leaders who have embraced meaningful engagement with more women is critical to shift the stereotypes and help women feel more welcome at the table.
With our corporate partners, most often we work with DEI (diversity, equity and inclusion) leads and ERGs (Employee Resource Groups) to bring our curriculum inside the workplace as professional development. We offer innovative programs that gamify leadership lessons with both IRL and virtual interactions. What we've found is that the gameplay, either on our Poker Power Play app or at live tables, is the key differentiator. Once women play, they get it! And they want to come back for more. As someone who never saw myself at a poker table four years ago, I will never forget the feeling of winning my first "all-in" pot of chips. That feeling of adrenaline, confidence and competence is what we replicate for our community across all of our programs around the globe every day.
Erin, the WPT's Women's Meet-Up-Game had many representatives from Poker Power including you. The energy from the event was palpable, and honestly exciting and optimistic for the future. At the start of this new year, where do you see women in poker in 2023?
Erin: We see and want more of everything! More tourneys for women, more playing Main events, more meet-up-games, more stories written about newcomers and pros, and more women sitting down for the first time and joining the community. What made Jamie's MUG so memorable for me was the energy at the tables, the laughter, the competitiveness, the bonding and the opportunity to play with some of the leading pros. The generosity of Wynn and WPT was incredible! None of us wanted to stop playing! And that's exactly the momentum we want to carry into 2023 as we shift the image of what poker looks like today to what it can become in the future.
Poker Power has helped to catapult Roxanne Johnson to the PSPC this year with a Platinum Pass. What made you decide you wanted to partner with PokerStars and create the PokerStars x Poker Power Bootcamp Showdown tournament live in Prague?
Erin: Our advisor Jennifer Shahade introduced us to the opportunity to partner with Rebecca McAdam and her team. We are very proud of the quality of our instructors and our curriculum and this initiative gave our team an opportunity to do what we do best – help take women from the beginning of their poker journey to a place where, with newfound confidence, they can compete on the biggest stage, whether that is the PokerStars Players Championship or in the classroom, interview room, or boardroom. The generosity from PokerStars to bring the participants to Prague and to award the Platinum Pass was truly extraordinary and amplifies the profiles of new women in this game.
For many years, women have been seen as an untapped market for poker, but the numbers hadn't shifted much until this last WPT event. Do you see their business model as one to aspire to for other tournaments?
Erin: The entire WPT team has embraced bringing more women to the game. I want to commend the leadership of Angelica Hael and Adam Pliska and their dedication to elevating the women's tourney and broadcasting the final table. It was extraordinary to be there in the midst of the excitement and to celebrate some of the top women players under the lights! And that matters because, while it starts at the top with leadership, it takes an entire company culture to truly make a lasting impact on this industry. I want to see other tournament organizers spotlight women in the game, as it is one of the best ways to encourage more women to learn, to sit at the table, and to want to play at the highest level.
Our boot camp partnership with PokerStars was another very meaningful way to attract and elevate women in the game and show them that anyone can and should take her seat. Like every male-dominated industry, be it poker, finance, or tech, when we see a more diverse community participating, it's good for the overall growth and sustainable success of the business.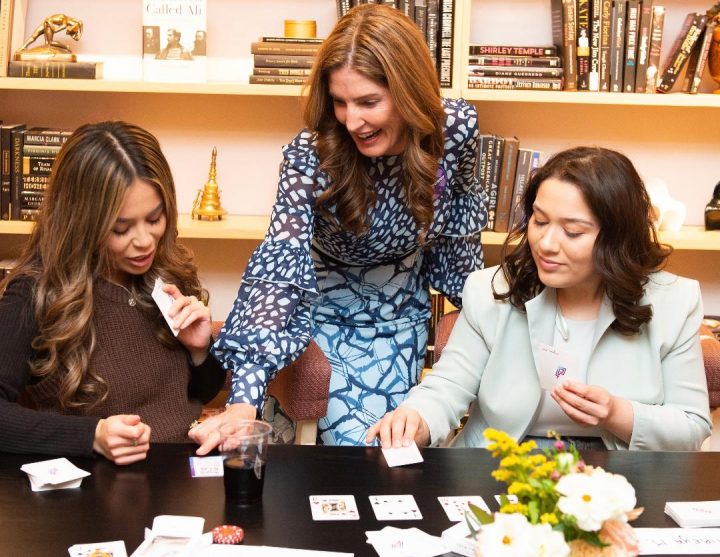 Jenny, do you see women as more naturally risk averse, or is that a condition of our culture? Is this part of the reason you see poker as a tool to encourage more risk taking, more aggression and asserting our power as women?
Jenny: We know the data shows that women tend to be risk averse, but I would counter that women have equal capacity to take risk, but their journey to get there is different. I know from my work in male-dominated fields that we must speed up the time it takes for a woman to be comfortable taking risk and in particular, around money. And to be clear — this isn't necessarily bigger risks, it is taking risks more often. This is clearly where poker comes in. Every hand gives you an opportunity to practice taking risks. It is a quite brilliant all-in-one tool for building so many skills, and at the top of the list is taking risks.
Poker Power's mission seems to be to help other women access the skills and prowess necessary to succeed in business, negotiation, targeted risk assessment, and helping access and harness their own worth in the business field. Jenny, how is your company helping to make this mission a reality, and who taught you those skills in your life?
Jenny: Every day we are hearing from the tens of thousands of women in our community who are better off today than yesterday because they learned poker from Poker Power either virtually, in person, or on demand. Be it in a salary negotiation, cutting a deal, settling a divorce, getting a mortgage, or simply pushing a project forward inside an organization, women who dedicate themselves to truly understand this game are changing their personal and professional trajectory. I had to learn the hard way. I always say, my one biggest regrets is that I didn't learn poker sooner. If I had, I would have saved myself a lot of time, money and heartache.
Erin, can you tell us a bit more about yourself?
Erin: I live outside Coeur d'Alene, Idaho – I like to ski! But I spend considerable time traveling for Poker Power for IRL workshops, conferences and spending time with the core team based in Chicago. I have two daughters ages 16 and 19, both of whom play poker. The youngest plays "loose and aggressive" and has a great instinct for the game. The oldest leans into math and probabilities and is learning to widen her range. It's a thrill to see them playing, and when they beat me (which they definitely do!) I feel really proud of their progress.
I was an English major and French minor at Bates College and then earned my MBA in Finance from Northwestern's Kellogg School of Management. I began my finance career on Wall Street at JP Morgan and then transitioned to the startup world, first serving on the boards of small companies and then advising the management team at Evil Geniuses after the PEAK6 acquisition. Now I lead Poker Power.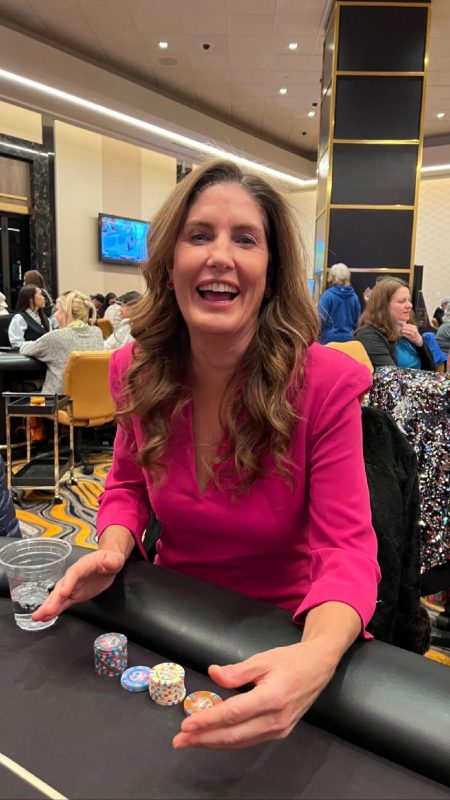 Jenny and Erin, when and how did you learn to play poker?
Erin: I had never played and, in fact, held many negative stereotypes of the game! I was surrounded by poker on Wall Street but never took my seat. I learned to play with each iteration of the Poker Power curriculum and have completed the lessons several times now. Along with our 20 talented Poker Power instructors, we have Xuan Liu and Jennifer Shahade as our pro advisors. So, I have access to some of the very best teachers in the industry! Lesson one at Poker Power has the theme of Courage, and trust me, it takes a lot of courage for a woman to sit down at the poker table for the first time.
Jenny: I learned when we taught my daughter and her friends in the spring of 2019. It's hard to believe I never took advantage of the opportunity I had in my workplace to learn.
Erin, what compelled you to join Poker Power and what's been one of your favorite moments with the company so far?
Erin: My motto has long been to say YES to everything, especially the things I don't know how to do. Learning poker and running an edtech startup to teach women how to play the game has allowed me to test my courage, resilience and discipline — all lessons we teach and hone with gameplay.
Without hesitation, my favorite moment — and it happens every day in our lessons — is when a woman plays for the first time, makes the right decision with her cards and goes all-in. And then she wins her first poker pot! When she triumphs, the joy on her face is priceless as she scoops all the chips into her hands. That moment of pulling in the chips is symbolic of the empowerment, the fun, and the courage we instill in our community with each and every hand played.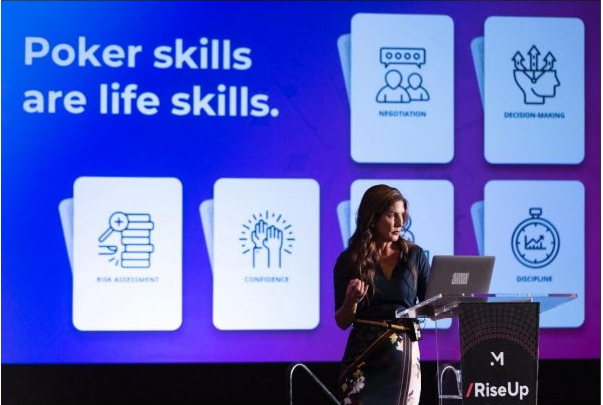 Jenny, your favorite moments?
Jenny: The very first time I was stopped by a young employee at work, she was so incredibly thankful for learning poker. She never thought she would sit at "the table" and never thought she could win a hand, and she had just won her first hand.
Another moment was when our innovative curriculum and partnership with the Kellogg School of Management was shortlisted twice for the prestigious Reimagine Education awards (it's like the Grammys of education). Public acknowledgement from such a great institution and to compete and be recognized with the other most innovative education programs across the globe was incredibly validating.
One final question for all three of you: where would you like to see Poker Power grow in the next few years?
Erin: At Poker Power and PEAK6, we dream big. We will introduce one million women to why poker matters. We will scale the impact we are having with girls across the globe from our Kenya partnership with Global Give Back Circle to high schools in America, and we will deepen our corporate partnerships which enable us to deliver our mission to all girls and women who want to learn with us.
We built and recently launched our own teaching app, Poker Power Play, and we are changing how women learn and play the game. It's video-enabled, easy to use and has become the hub of our community. Technology will continue to play a critical role in how we scale the business and engage with women across the globe. We know how to make poker empowering, exciting and fun!
Juliette: Due to Covid, forcing a lot of people to spend more time at home than they normally do and pick up new hobbies, a lot more women have started playing. However, I would love to see a rise in the number of younger female poker players, as I feel there's been the least growth in that demographic.
Jenny: Poker needs to be part of the media landscape differently than it ever has been. Poker Power will do this, but it won't be easy. This is like women driving in the 1930s, but today we have technology so it should not take as long to make change. But we are definitely working uphill. Most women turn their heads away from poker today. The industry needs to change in many ways. The culture around poker needs to change. Poker Power will be that change. It is a big job, but we are going to do it because it is the difference between women having equality at "the table" or not.